Visiting Paris is an opportunity that I hope everyone experiences at least once in a lifetime. Of the many must-see activities in the "City of Light," the Les Puces de Saint-Ouen Market is on the top of my list.  That being said, the neighborhood where the market is located is not what you would call charming or idyllic.  It is a bit rough around the edges and can get quite crowded. As with most big city locations, it is good idea to keep you wallet in a safe place be aware of your surroundings.
Take Metro Line 4 to the end of the line at Clignancourt.  Once you exit the station you will see a Mc Donalds across the street, and a sign for "Les Puces," which means "The Fleas." Stay on the same side of the street and take a right heading toward the large concrete overpass. The market is a good ten-minute walk from the metro station and you will pass through what I refer to as the "Groundhog Day" of retail. In other words, you will pass through numerous white tents selling the same knock-off products you can get at any swap meet in the states.  You will also encounter a copious amount of track suit wearing vendors offering an astonishing array of fake designer bags and watches.  Just keep walking until you see Rue des Rosiers.
Cross the street at enter at Marché Vernaison (pictured) at 99 rue des Rosiers. Vernaison is a wonderful, winding maze filled with antiques, furniture, paintings, jewelry, textiles, and much more. There is an incredible variety of treasures at this location, and I believe this market is your best bet to find affordable objects and souvenirs. Les Puces is made up of several individual markets that connect at various points. I love just taking a day to wander, but if are looking for something specific I suggest downloading Claudia Strasser's i Phone app. Claudia is the author of The Paris Apartment, and if you are in the market to make a significant purchase, you can make an appointment with her to act as your translator and private guide. No matter the route you choose, the flea market is absolutely worth the journey. Have fun!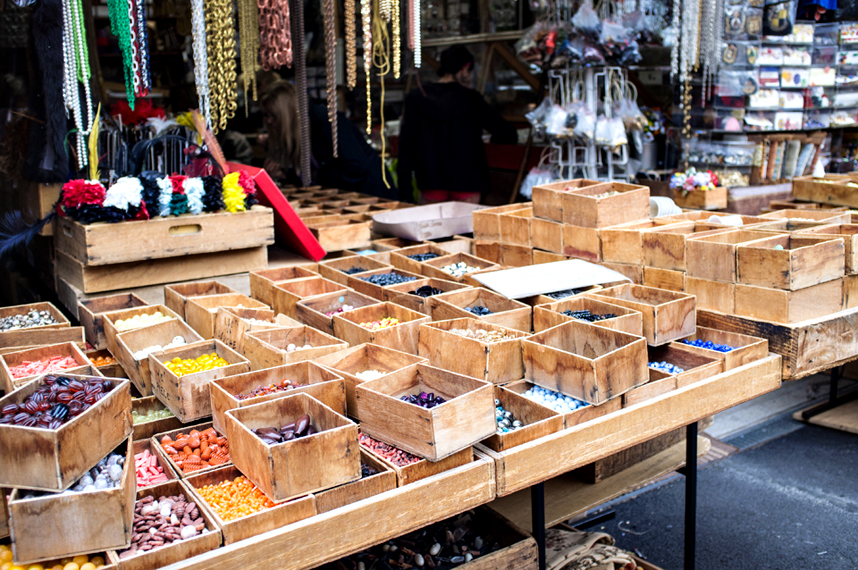 Les Puces de Saint-Ouen Hours:
Saturday from 9:00-6:00
Sunday from 10:00-6:00
Monday from 11:00 -5:00 (many of the stalls close at lunchtime)